It is very common for women to experience low back pain during or following pregnancy. It is generally caused by the increased weight that has to be carried by a woman which leads to increased stress placed on joints, ligaments and muscles in the lower back area. Physiotherapy is very effective at managing low back pain. The physiotherapists at Physio.co.uk can work with you to create an individualised programme to help reduce your pain. As you get nearer your due date, the weight of your baby will be increasing and this will therefore this will put greater stress on your lower back. Severe pregnancy related low back pain may create difficulties in walking and therefore it is important to begin physiotherapy as early as possible.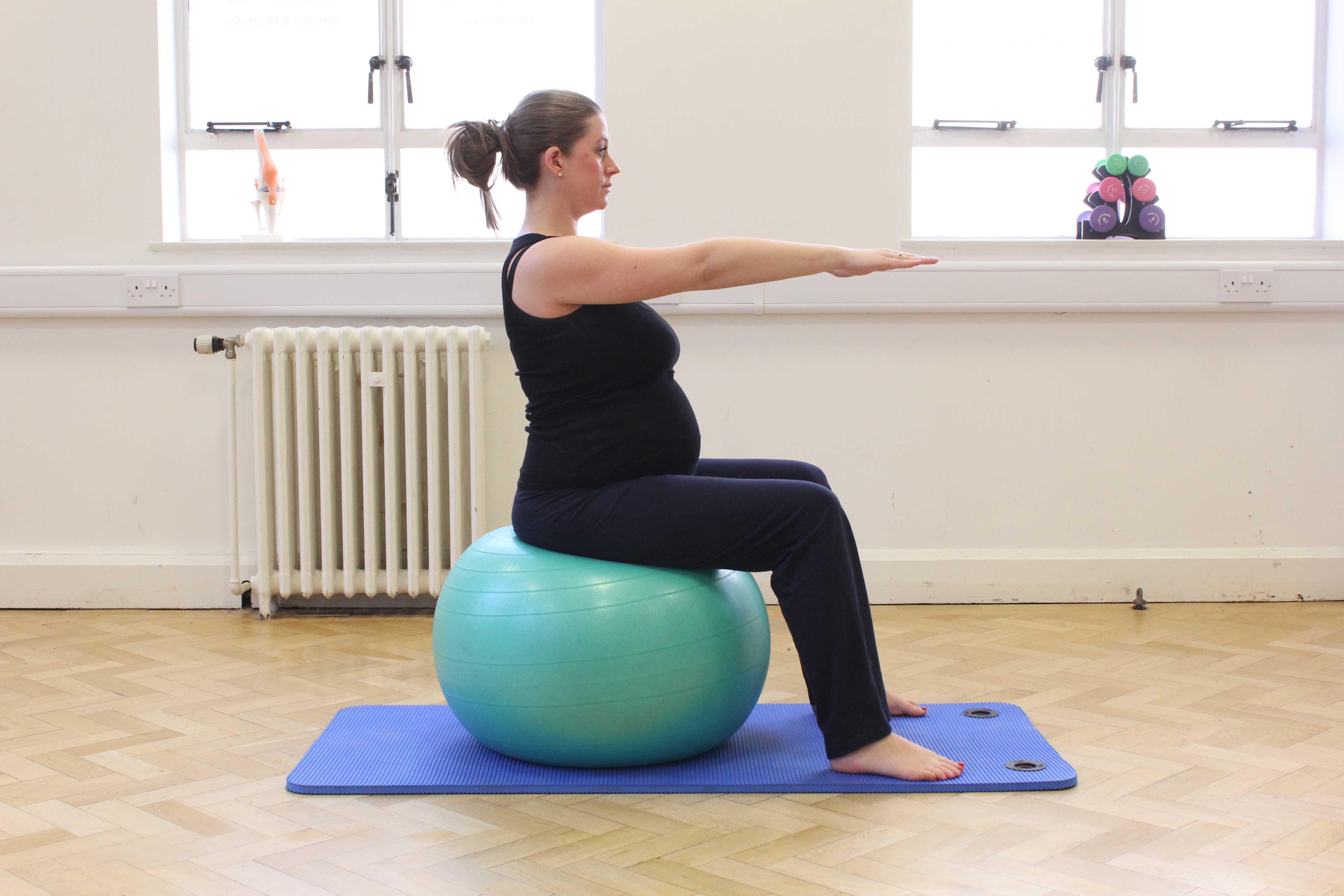 Above: Addressing lower back pain by improving posture a muscle tone using a gym ball
What are the symptoms of pregnancy related low back pain?
There are many other symptoms associated with low back pain in addition to pain in this area:
Difficulty in lifting and moving heavy items
Pain on certain movements such as standing for a long period of time and twisting actions
Difficulty going up and down the stairs
Unable to carry out some normal activities of daily living including washing and dressing, getting in and out of the car and housework
Stiffness in surrounding joints
Tightness in muscles in the area
Reasons for low back pain during pregnancy
Increased weight of your baby
Extra stress on muscles, ligaments and joints
Reduced activity levels
Reasons for low back pain following pregnancy
What will physiotherapy involve for pregnancy related low back pain include?
Your specialist physiotherapist at Physio.co.uk will complete a full assessment and then devise an appropriate treatment plan to manage your condition. Your physiotherapy programme may include the following:
Correct techniques for lifting and handling
Strengthening exercises for your deep abdominal muscles (transverse abdominals)
Ergonomic assessment at your work station or home
Provision of equipment that may be useful such as support belts around the abdomen
Lower back mobility exercises
Mobilisations on any stiff joints such as the sacroiliac (SIJ), hip or lumbar spine joints
Summary
Pregnancy related low back pain is any pain in the lower back region that is experienced during or following pregnancy as a result of additional stress placed on the ligaments, discs, joints and muscles in the area. Physiotherapy is very successful in reducing symptoms of low back pain and the physiotherapists at Physio.co.uk will provide you with a comprehensive programme to optimise your recovery. Pregnancy related low back pain is best treated as early as possible to reduce the risk of any long term complications. Please call Physio.co.uk on
0330 088 7800
to book an appointment with one of our specialist physiotherapists today. Or alternatively,
book an appointment with us online
today!