What is post-polio syndrome?
Post-polio syndrome is a neurological condition that affects the nerves supplying the muscles causing muscle pain and weakness. It only affects people who previously contracted the polio virus and can affect people many years after recovery of the initial infection.
Diagnosis of post-polio syndrome
Your doctor will normally be able to determine a diagnosis of post-polio syndrome by taking a detailed medical history and a neuromuscular examination. This will also enable your doctor to rule out other conditions that have similar symptoms. It is important for survivors of polio with post-polio syndrome to consult a doctor trained in neuromuscular disorders as they can carry out tests which include:
Magnetic Resonance Imaging (MRI) scans
Computed tomography (CT),
Neuroimaging,
Muscle biopsy
Spinal fluid analysis
What causes post-polio syndrome?
Post-polio syndrome only affects survivors of the initial polio virus. The cause of post-polio syndrome is unknown but some theories suggest that post-polio is caused by deterioration of motor neurons that remain in the body after the original polio virus.
Other theories suggest that the initial polio virus lies dormant in the body over many years and it can reactivate after time. Possible triggers for this reactivation include illness and physical or emotional trauma.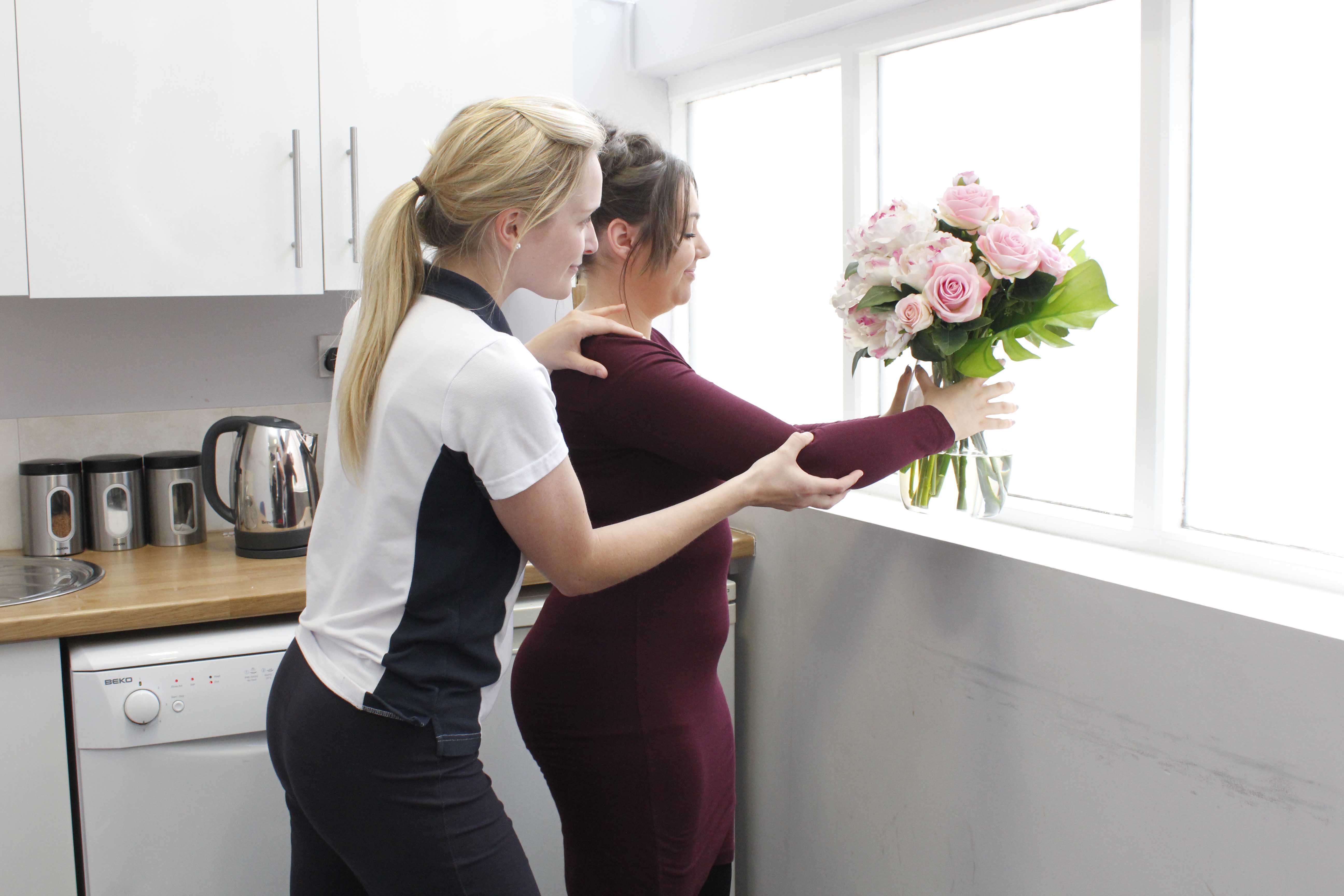 Above: Neurological Physiotherapist closely supervising functional rehabilitation exercises for grip and upper limb mobility
What are the effects / symptoms of post polio syndrome?
Post-polio syndrome affects the muscles causing pain, weakness and wasting. A person with post-polio syndrome will feel tired and may have difficulty concentrating. Other symptoms include:
Difficulty swallowing
Difficulty breathing
Memory problems
Irregular sleep
Depression
If you have post-polio syndrome your symptoms are likely to get worse over time.
Physiotherapy for post polio syndrome
A person with post-polio syndrome will benefit from physiotherapy from a specialised neurological physiotherapist.
The specialist neurological physiotherapists at Physio.co.uk understand that post-polio can be a frightening experience for previous sufferers of the polio virus as they are reliving the incident again. Our neurological physiotherapists provide specialised treatment to:-
Reduce fatigue,
Increasing mobility such as walking
Improve muscle strength,
Reduce soft tissue shortening
Increase quality of sleep
Increase feeling of wellbeing
Increased ability to manage pain
Promote independence
Improve quality of life
Regular physiotherapy will help people to cope with a post-polio syndrome and promote well being. Physiotherapy treatment for people with post-polio syndrome includes:
Muscle strength training to reduce muscle weakness.
Exercises to build stamina and reduce fatigue
Walking to help limit muscle shortening
Hydrotherapy can help people with post polio do exercise that may not be possible on land.
Relaxation therapy to relax tight muscles
Manchester NeuroPhysio understands the difficulties experienced by a person with post-polio syndrome. Our dedicated neurological physiotherapists can maximise your potential by providing support and working closely with you, your partner, family and carers.
To book an appointment call
0330 088 7800
,
book online
or alternatively request a
free phone consultation
.