What is meningitis
Meningitis is inflammation of the meninges that surround the brain and spinal cord.A variety of long lasting physical symptoms can be left by severe meningitis. These symptoms require to be managed by an experienced physiotherapist and specialist treatment. With the help of Physiotherapy, your toddlers
rate of natural development
can be improved, along with helping to reduce their joint
stiffness
and building muscle
strength
.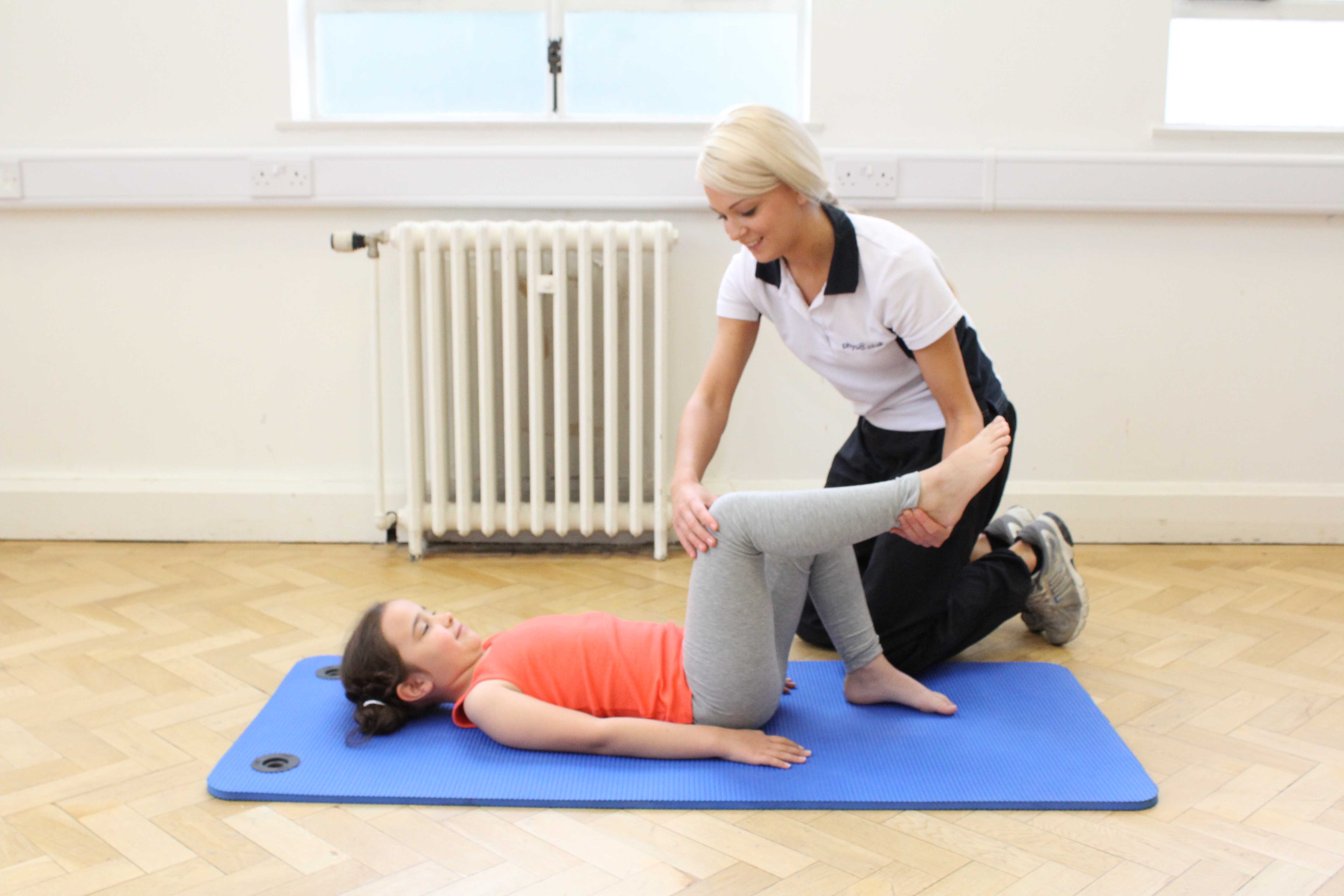 Above: Stertching and strengthening exercises assisted by specialist paediatric physiotherapist
Causes of meningitis
Bacteria and viruses are the main cause of meningitis in infants and children. The most serious form is bacterial meningitis which can lead to disability and brain damage which may be long term. Viral meningitis is seen more commonly, however it is a milder form with flu-like symptoms.
Symptoms of meningitis
Early recognition of the symptoms of meningitis is extremely important in order to ensure that treatment begins as soon as possible. This is because bacterial meninigitis has the potential to lead to septicaemia, and so all suspected cases should be treated like a medical emergency.
The symptoms of bacterial meningitis have a rapid onset and young children under 5 are at high risk of developing this.
The symptoms that your toddler may experience include:
High fever, with cold hands and feet
Rapid breathing
Agitation
Pale, blotchy skin with a red rash that does not fade when a glass is placed over
Drowsiness, floppy and unresponsive
Unusual high-pitched cry
Stiff neck
Convulsions/ Seizures
Vomit or refuse food
Whereas viral meningitis offers flu-like symptoms such as headaches, fever, nausea and generally feeling unwell.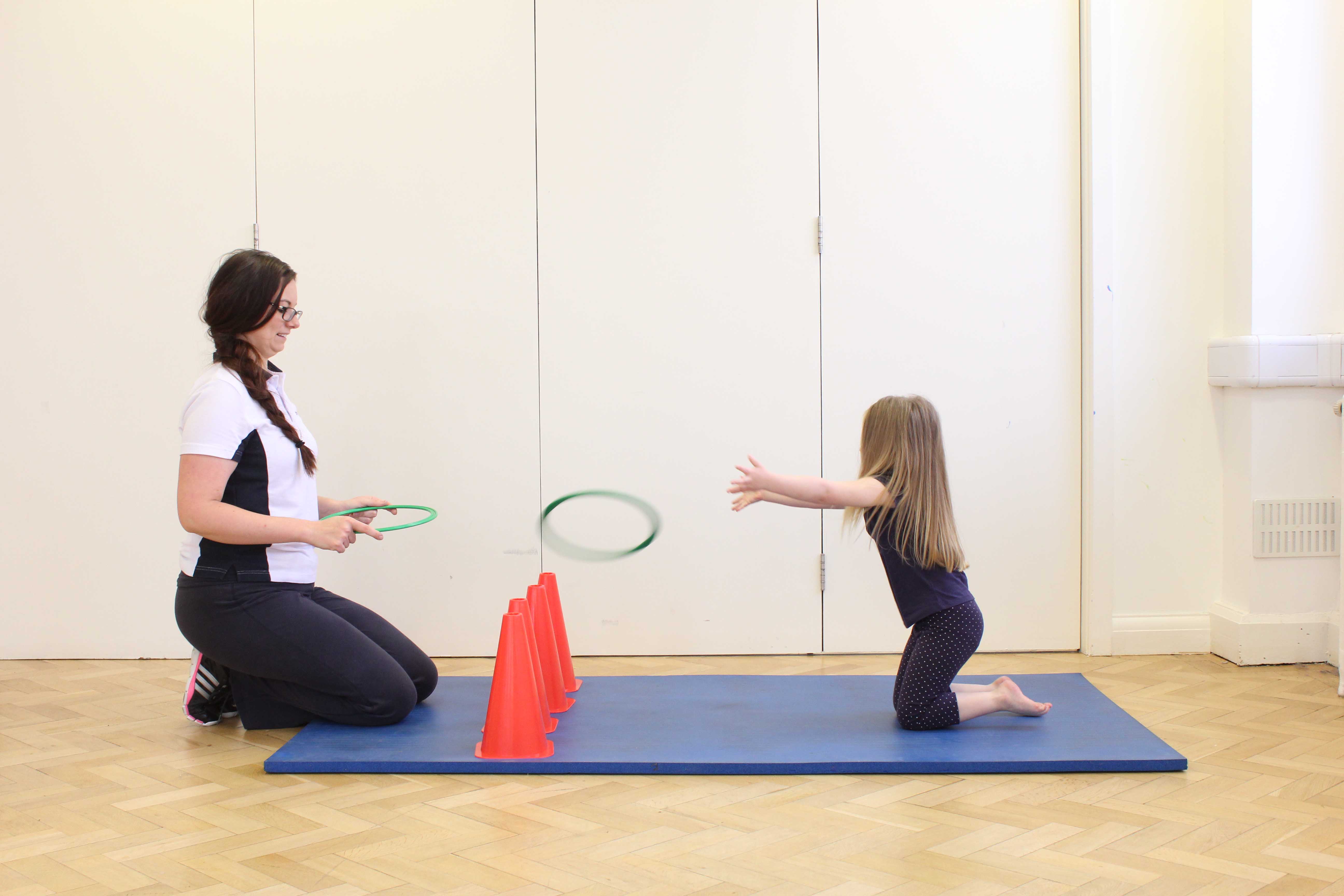 Above: stability and toning exercises supervised by a paediatric physiotherapist
Diagnosis of meningitis
If a doctor suspects that your toddler has contracted meningitis, a blood sample will be taken and a lumbar puncture will be performed, where cerebrospinal fluid will be sent for testing. An X-ray or CT Scan may also help to look for signs of infection and brain damage.
Treatment for meningitis
Treatment is dependent on whether it has been caused by a virus or bacteria.
For bacterial meningitis, hospitalisation is usually required as it is very serious. Your toddler will be given antibiotics and IV fluids through a drip.
If your toddler has mild viral meningitis however, they will require rest and care at home
Physiotherapy for your toddler with meningitis
When medically stable, your toddler will be discharged from hospital. They may require to have a follow up of physiotherapy treatment and management depending on the severity of the meningitis and what the outstanding symptoms are.
At Physio.co.uk, our specialist physiotherapists will be able to assess your toddlers needs in a detailed and holistic manner, either in the clinic or in your home environment. Following this, they will be able to discuss the findings of their assessment with you and the problems that your toddler has will be communicated into short and long term goal plans. After having meningitis, a typical treatment plan for a toddler may include:
You will be provided with a detailed exercise program by your physiotherapist to carry out with your child at home. The focus will be aimed towards working on
co-ordination
,
balance
,
muscle strength
and mobility through fun and challenging activities. Any therapy equipment that may be required will be suggested to you by your physiotherapist and we can provide you and your family members, carers or teachers with
training
and
education
where appropriate. In order to ensure effective 24 hour rehabilitation, it is important that all those who are involved in caring for the toddler, understand how your child should rest and play appropriately.
Following meningitis, the benefits that physiotherapy can have for your child include:
The ability for your child to engage in a variety of activities will improve with regular physiotherapy sessions, allowing them to make friends and participate in nursery or school classes. A large improvement in your toddlers quality of life and physical ability will be recognised.
Why Physio.co.uk for your toddler after meningitis
Our in-depth understanding at Physio.co.uk into the symptoms, effects and management of meningitis in toddlers means that our specialist physiotherapists able to provide a detailed and thorough assessment of your toddlers condition. Research has shown that with physiotherapy intervention, a toddlers functional outcome from meningitis significantly improves. At Physio.co.uk, the treatment we provide will be evidence based and delivered to a high standard, whether that is in the clinic or in your home environment.
Appointment times are flexible
At home treatment or in the clinic
Experienced and dedicated physiotherapists
Advice and provisions of appropriate aids and equipment
Hydrotherapy access
Access to speech and language therapy
Individual home exercise programme
Access to occupational therapy
Access to speech and language therapy
Physiotherapy as a method of rehabilitation of toddlers recovering from meningitis, is a proven and recognised treatment. To speak to one of our paediatric physiotherapists regarding your toddlers needs following meningitis or to book an appointment, please contact us now on
0800 033 7800
, or
book an appointment online
today!